DESTINATIONS
CONTACT US
CONTACTS
Head office - Milano
Tel: +39 339 8558730
Women travellers
"There is something truly unique about travelling with other women. There is a kinship that is shared through cultural immersion - often through culinary interests, walking, art and much more."
Join us as we go on a marvelous adventure through Italy and the Dolce Vita. You will have the opportunity to explore independently while traveling with a small group of active and interesting women.

Our women travelers consider travel an integral part of life and appreciate fine dining together and sharing stories.
Our small groups of women travelers range in number from 3 to 15.
Our trips offer you the comfort and safety of traveling with friends while having time to discover your own treasures.

When you travel with us you can rejuvenate, rebalance, and renew your body, mind, and spirit amidst the splendor of beautiful places. We are specialized in adventure travel for women, with an emphasis on active / walking holidays, cultural interaction, nature and wildlife experiences.
Each of our experiences are organized to include private transportations, experienced local guides at your disposal, accommodations in luxury hotels and agritourisms , fine dining in charming restaurants, activities and entry fees as outlined in itinerary.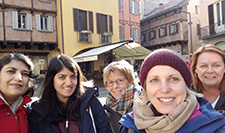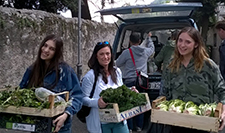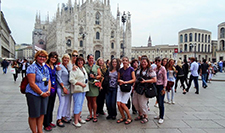 We invite you to contact us by phone, email, or post with your ideas. One of our expert consultants will be at your disposal to take care of your travel logistics (hotel reservations, first class train tickets, airport transfers, restaurant reservations, and tickets at cultural attractions), or someone seeking an in-depth travel experience by booking half day or full day tours with our expert local guides and drivers, our travel consultants will offer you a special and exclusive tour whenever and wherever you like to be.
Contact us to design your own itinerary!