DESTINATIONS
CONTACT US
CONTACTS
Head office - Milano
Tel: +39 339 8558730
Fashion & Shopping
"Italy, land of Espresso and high Fashion"
Gucci, Ferragamo, Prada or Armani are the symbols of Made in Italy which it isn't only a synonymous of luxury and fashion boutiques: Made in Italy indeed means also ancient craft shops and small boutiques.
In the main Italian cities - like Rome, Florence and Milan - you can walk along famous shopping districts where you can admire both the big stores and the small boutiques, or the local markets where you can find great bargain!
The most fashion cities where go shopping in Italy
Book Now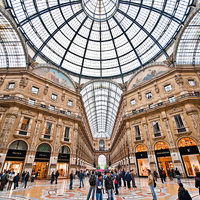 Milan
Milan is worldwide known as the economic capital of Italy but it is also an important destination for those who want to spend a day go shopping among the world known Italian brands. A perfect shopping tour in Milan have to starts in Via Montenapoleone where you can find fashion shops and boutiques! Gucci, Bulgari, Armani or Pucci are only some of the big names that you'll find in this luxury street! Milan, famous also for its Fashion Week, offers also other important shopping districts: in Milan in fact you can walk along the so called "Quadrilatero della Moda" which includes Via Montenapoleone, Viale Manzoni, Via della Spiga and Corso Venezia. Walk along the shopping streets in Milan will be a fantastic experience to breathe the real Italian fashion atmosphere!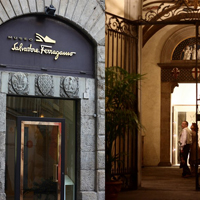 Florence
Florence is famous worldwide to be the cradle of the Renaissance, but if you walk along its typical narrow streets until Ponte Vecchio, you'll surely discover a lots of craftshops. D'Oltrarno area in Florence is known for its numerous small shops where artisans today work with passion and it is still possible take part to a workshop to admire the artisans at work! If you are more interested in the big brand stores, you have to know that Florence is the birthplace of important fashion brands, like Gucci, Ferragamo, Roberto Cavalli and Pucci. If you love fashion you cannot miss Museo Gucci and Museo Ferragamo - to relive the ancient history of this two brands -, and the Ancient Silk Factory and the Lather Museums..you will love them!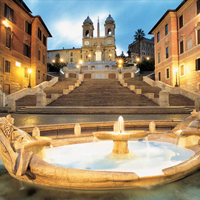 Rome
Everyone knows Rome like a city full of history, culture and traditions, but there is more to do and to see besides the Coliseum or St. Peter's Basilica! In the narrow streets of the city center you can discover some of the finest shops of the world! A shopping tour in Rome starts in Via del Corso and in Via Condotti: here you can admire the colored shop windows of Prada, Valentino, Bulgari or Armani! Everywhere in the city centre of Rome you can find a lots of boutiques, shops and markets, just walk along the narrow streets and squares of the city to find your great bargain! Remember to visit the markets such as Campo dei Fiori - at night it is transformed into a popular spot for Rome's young and beautiful - buzzing with locals loudly haggling over produce.
We invite you to contact us by phone, email, or post with your ideas. One of our expert consultants will be at your disposal to take care of your travel logistics (hotel reservations, first class train tickets, airport transfers, restaurant reservations, and tickets at cultural attractions), or someone seeking an in-depth travel experience by booking half day or full day tours with our expert local guides and drivers, our travel consultants will offer you a special and exclusive tour whenever and wherever you like to be.
Contact us to design your own itinerary!