DESTINATIONS
CONTACT US
CONTACTS
Head office - Milano
Tel: +39 339 8558730
Food & Wine
"In Italy, they add work and life on the food and wine"
For generations, travelers have discovered the charms and beauty of Italy through the culture of food and wine. Now, you too can discover your own little corner of the food and wine tradition of Italy with your own private and personalized tours.
Full or multi day tours allow you to experience the food and the great wines of Piedmont, Veneto, Tuscany and Umbria. Guests will be introduced to the local producers of the regions' specialties and its famous wineries. Expert sommeliers will escort you through the magic of wine. Expert chefs will let you discover the real taste of food, teaching you also how to cook a delicious Italian dish.
Book Now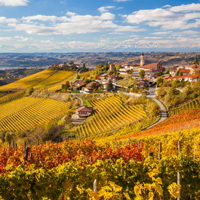 Colors of the Langhe
Begin your tour from Piedmont region, famous for its truffles, French-influenced cuisine and the world-renowned red wines Barolo, Barbaresco, Barbera and Dolcetto. Breathtaking view on the hills with charming castles and villages.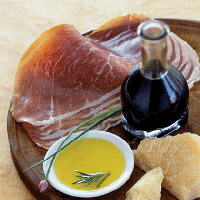 Delicious food
Emilia-Romagna, arguably the best-known center of gourmet fare in Italy, and famous for its rich cuisine. Visit producers of the region's celebrated Parmesan cheese, Parma prosciutto, and the traditional balsamic vinegar of Modena.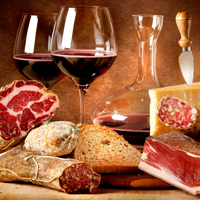 Wineries & degustations
Tuscany, where the enchanting landscapes, superlative art and fine wine combine with the simple yet delicious cuisine to create a harmonious experience. Take a full-day wine, olive oil and cheese-tasting tour through Tuscany, visiting wine estates in Montalcino and Montepulciano.
ACTIVITIES
Cook with your Chef
Cooking classes are a great way to spend part of your vacation, whether you are a great cook or just passionate about good food. Learn to cook like the Italians while in Italy. Contact us and let us know what are your preferences and we will assist you creating the ideal itinerary for you.
We invite you to contact us by phone, email, or post with your ideas. One of our expert consultants will be at your disposal to take care of your travel logistics (hotel reservations, first class train tickets, airport transfers, restaurant reservations, and wine degustation), or someone seeking an in-depth travel experience by booking half day or full day tours with our expert local guides and drivers, our travel consultants will offer you a special and exclusive tour whenever and wherever you like to be.
Contact us to design your own itinerary!