DESTINATIONS
CONTACT US
CONTACTS
Head office - Milano
Tel: +39 339 8558730
Discover the North
"A journey to Italy should always be seen as a journey of discovery that will reveal not one, but many Italies."


Italy is popularly known to be one of Europe most sophisticated destinations with its typical regions. Italy is a land to discover, or rediscover, and discover again.

Discover the Northern territory through our itineraries and contact us by phone, email, or post with your ideas. One of our expert consultants will be at your disposal to take care of your travel logistics (hotel reservations, first class train tickets, airport transfers, restaurant reservations, and wine degustation), or someone seeking an in-depth travel experience by booking half day or full day tours with our expert local guides and drivers, our travel consultants will offer you a special and exclusive tour whenever and wherever you like to be.



NORTHWEST ITALY
Piedmont & Valle d'Aosta, Liguria and Lombardy
Home of the Italian Riviera, including Portofino, and of Cinque Terre. There are many historic cities in this part of Italy such as Turin, the manufacturing capital of Italy, Milan, the business and fashion capital of the country, Brescia, that displays many important Roman and Langobard remains, Bergamo, with its medieval city-center and the important port of Genoa which share the region's visitors with beautiful landscapes like the Lake Garda and the Lake Como.
PIEDMONT & AOSTA VALLEY
In the extreme northwest of Italy, fringed by the French and Swiss Alps and grooved with deep valleys. Piemonte (literally "at the foot of the mountains") is one of Italy's wealthiest regions, known for its fine wines and food, and for being home to huge Italian corporations such as Fiat and Olivetti. Italy's longest river, the mighty Po, begins here, and the towns of its vast plain have grown rich on both manufacturing and rice, cultivated in sweeping paddy fields.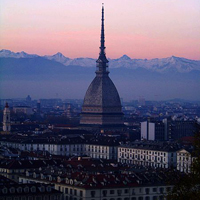 TURIN is the first stop and retains a freshly restored Baroque core, with galleries and museums. Many culinary products coming from Piedmont as truffles ( the white typology is the finest) wines (first of all the Barolo) and nuts, specialty undisputed Alta Langa. South of Turin, Alba is a good base for visiting the region's wine cantinas. Asti, to the southeast, comes to life during its famous medieval Palio, or horse race.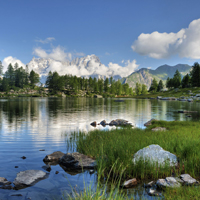 THE AOSTA VALLEY cuts across it, following the River Dora to the foot of Mont Blanc. Bordered by Europe's highest mountains, Mont Blanc, Mont Rosa and the Matterhorn, veined with valleys and studded with castles, the Valle d'Aosta region is picturesque and Aosta, the regional capital, makes an excellent staging post on the way to the mountain resorts.
LIGURIA
Sheltering on the seaward side of the mountains that divide Piedmont from the coast, Liguria is the classic introduction to Italy for travelers journeying overland through France. There's an unexpected change as you cross the border: the Italian Riviera, as Liguria's commercially developed strip of coast is known, has more variety of landscape and architecture than its French counterpart, and is less frenetic. Teetering on slopes carpeted with olives and vines are isolated mountain villages that retain their own rural culture and cuisine.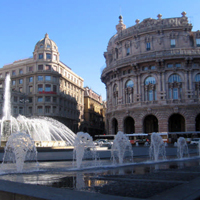 GENOA the chief city of the region, it is an ancient, sprawling port often acclaimed as the most atmospheric of all Italian cities. The city of the great navigators of the past, a maritime republic and the birthplace of Christopher Columbus. During the Roman Empire, Genoa was the "gateway" to the Mediterranean Sea and nowadays it is still one of the main ports in Europe. It has a dense and fascinating old quarter that is complemented by a vibrant social and ethnic mix and a newly energized dockside district.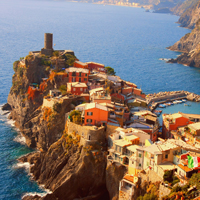 CINQUE TERRE with its romantic paths, the fortress-houses of Porto Venere and the square of Portofino. Nature has been very generous with this land, wonderful panorama with palms, pines, cypresses and olive-trees and flowers. The rustic and the elegant, the provincial and the chic, the small and the cosmopolitan town collide here in a sun-drenched blend that defines the Italian Riviera. Ask your Travel Consultant more information and you will be able to visit these beautiful villages in different ways.
LOMBARDY
Italy's richest region, hides a long series of scenic treasures and artistic essentials, and boasts seven sites included in the UNESCO World Heritage Site. The first to be put on the list was the rock art of Valcamonica in 1979, with one of the largest collections in the world of prehistoric rock carvings, which was followed by the church and Dominican convent of Santa Maria delle Grazie and Leonardo's Last Supper da Vinci in Milan, the industrial archeology of the village of Crespi d'Adda, the sacred mountains of Lombardy, Mantua and Sabbioneta, the Rhaetian Railway in the Albula and Bernina (from Tirano).
MILAN It is one of the largest city of Italy and its most important economical center. Italy's powerful economic engine future and technology centre, home of the country's major finance and trade companies, corporate entities, trading houses and manufactures, as well as advertising, publishing and media industries. Italy lives in the present tense here and the Milanesi are proud of their city's creativity, hard work ethic and trendy lifestyle. Different styles all to be discover.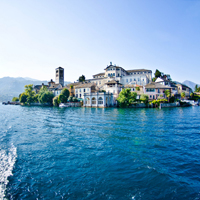 NORTHERN LAKES Lombardy's towns and cities retain medieval cores boasting world-class art and architecture, and the stunning scenery of the so-called Italian Lakes - notably lakes Maggiore, Como and Garda - never fails to seduce. Travelers from all over the world are attracted by the lakes of Como, Maggiore, Iseo and Garda, admiring the sumptuous villas by beautiful gardens, islands and small villages scattered along the banks.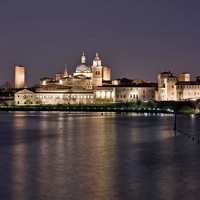 MILAN'S LOWLAND NEIGHBOURS - Cremona and Mantua - flourished during the Middle Ages and Renaissance and retain much character. To the north, Lombardy is quite different, the lakes and valleys sheltering fewer historic towns, the cities of Bergamo and Brescia excepted. Great way to discover the Lombardy are the numerous food and wine tours to delve into the different histories of the major cities such as Pavia, Varese, Lodi, Cremona, Mantua, Brescia, Bergamo, Como, Lecco.
NORTHEAST ITALY
Emilia-Romagna, Friuli-Venezia Giulia, Trentino-Alto Adige/Sudtirol and Veneto
This part of Italy also boasts several important tourist attractions, such as the canal-filled city of Venice, the cities of Verona, Vicenza, Padua, Trento, Bologna, Ferrara, Piacenza, Parma, Ravenna and Trieste. There are also several mountain ranges such as the Dolomites, the Carnic and Julian Alps and first-class ski resorts like Cortina d'Ampezzo and Madonna di Campiglio. These four regions offer much to see and do. The area has a unique cuisine, including wines and dishes such as Prosecco and Tiramisu in Veneto and Cotechino, Ragu and Parma ham in Emilia Romagna, San Daniele ham and D.O.C. wines in Valpolicella, Lake Garda, Trentino and Friuli-Venezia Giulia.
EMILIA ROMAGNA
Emilia-Romagna doesn't attract nearly the same volume of tourists as its neighbouring provinces of Lombardy, or Veneto, which is strange because it offers just as fine a distillation of the region's charms: glorious countryside, plenty of historic architecture and local cuisine renowned across the rest of Italy. Emilia Romagna, a mosaic of emotions. From the bright colors of the Riviera to the treasures conserved within its art cities, from the aromas of good food to the warmth of its people. Dotted along this road are some proud, historic towns, filled with restored medieval and Renaissance Palazzi, the legacy of a handful of feuding families - the Este in Ferrara and Modena and the Farnese in Parma.
BOLOGNA The largest urban centre, and the main tourist draw, the site of Europe's first university - and today best known as the gastronomic capital of Italy. It's regarded as one of the country's most beautiful cities with a network of porticoes, medieval streets, a collection of restaurants. Ask your Travel Consultant to organize a cooking class where you will learn with an expert Chef how to make Pasta and Tortellini or how to prepare a real Bolognese sauce for your Pasta enjoying some good wine of the area.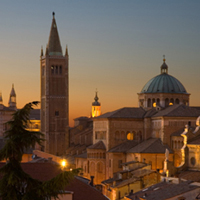 MODENA, PARMA AND REGGIO EMILIA, each with their own charming historic centers and gastronomic delights, while to the east lies Ravenna, home to the finest set of Byzantine mosaics in the world. The Adriatic coast south is an overdeveloped ribbon of settlements, although Rimini, at its southern end, provides a spark of interest, with its wild seaside nightlife and surprisingly historic town centre.
Emilia-Romagna's countryside comes in two topographical varieties: flat or hilly. The kitchen is the best calling card that this region has the world: the Parmesan cheese and ham, to name just two of the many local gastronomic pearls, are in fact the emblem of the made in Italy culinary world.
FRIULI VENEZIA GIULIA
Established only in 1963 and given special status as one of Italy's five semi-autonomous regions, Friuli-Venezia Giulia is odd, even in its name. Bordering Austria to the north and Slovenia to the east, it has always been a major bone of contention among rival powers.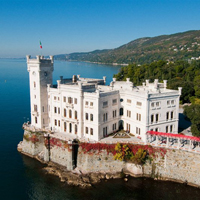 The cities and towns here are as wildly dissimilar as one might expect. Trieste, the capital, is an urbanely elegant Habsburg creation. A little further west, Udine's architecture and art collections evoke Venice at its grandest, while UNESCO-listed Cividale del Friuli preserves a picturesque historic centre perched over the aquamarine Natisone River. The archeologically minded, however, head straight to Aquileia and the ruins of the Roman capital of Friuli, with its impressive basilica and huge paleo-Christian floor mosaic.
TRENTINO ALTO ADIGE
Italy's northernmost region is a major draw for holiday-makers who mostly come for winter skiing, summer hiking and tranquil year-round vistas. The region is made up of two areas: Trentino, the southern part. By contrast, the mountainous terrain known both as the Sudtirol (South Tyrol) and Alto Adige. Region with remarkable natural beauty (has eight National Parks Stelvio, Schlern-Rosengarten, Monte Corno, Fanes-Senes-Braies, Texel Group, Puez Geisler-Tre Cime Sesto Dolomites and Rieserfern-Ahr) and the famous ski slopes, the Autonomous Province of Bolzano is a hugely popular destination for summer and winter holidays.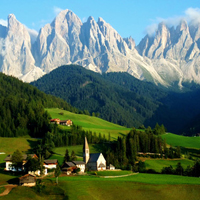 DOLOMITES The region is dominated by the barren, rough rock walls. Some of the most eye-catching peaks in Europe, these vast massifs abound in myths and legends and have been eroded over the last 200 million years into a weird and wonderful array of needles, towers and pinnacles. In 2009 the range was added to the UNESCO World Natural Heritage List for their unique geology and for their diverse ecosystem abundant in rare flora and fauna.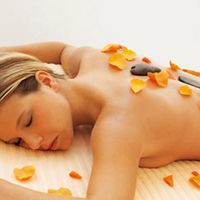 RELAX AND SPA: If hiking gear and ski sticks make you shudder, views of this spectacular landscape can also be savored from the comfort of luxurious spa hotels, offering first-rate regional cuisine and a unique selection of treatments from bathing in thermal water to elaborate "dry baths" involving lying swaddled in sheep's wool or mountain hay.
VENETO
The first-time visitor to Venice arrives full of expectations, most of which turn out to be well founded. The gondolas and cabins covered in snow, steeples and ancient villas. Veneto is a region that offers all sorts of landscape: the Venetian lagoon, the sandy beaches, through rolling hills and towering mountains.

VENICE all the photographs you've seen of the Palazzo Ducale, of the Basilica di San Marco, of the palaces along the Canal Grande - they've simply been recording the extraordinary truth. As soon as you begin to explore Venice, every day will bring its surprises, for this is an urban landscape so full of things to do that you can't walk for a minute without coming across something that's worth a stop.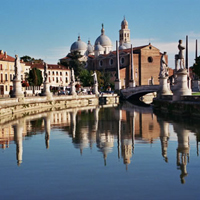 PADUA and VERONA are the main tourist attractions after Venice, thanks to their masterpieces by Giotto, Donatello and Mantegna. None of the other towns of the Veneto can match the cultural wealth of these two, but there are nonetheless plenty of places that justify a detour - the Palladian city of Vicenza, for instance, the fortified settlements of Castelfranco and Cittadella.
We invite you to contact us by phone, email, or post with your ideas. One of our expert consultants will be at your disposal to take care of your travel logistics (hotel reservations, first class train tickets, airport transfers, restaurant reservations, and tickets at cultural attractions), or someone seeking an in-depth travel experience by booking half day or full day tours with our expert local guides and drivers, our travel consultants will offer you a special and exclusive tour whenever and wherever you like to be.
Contact us to design your own itinerary!